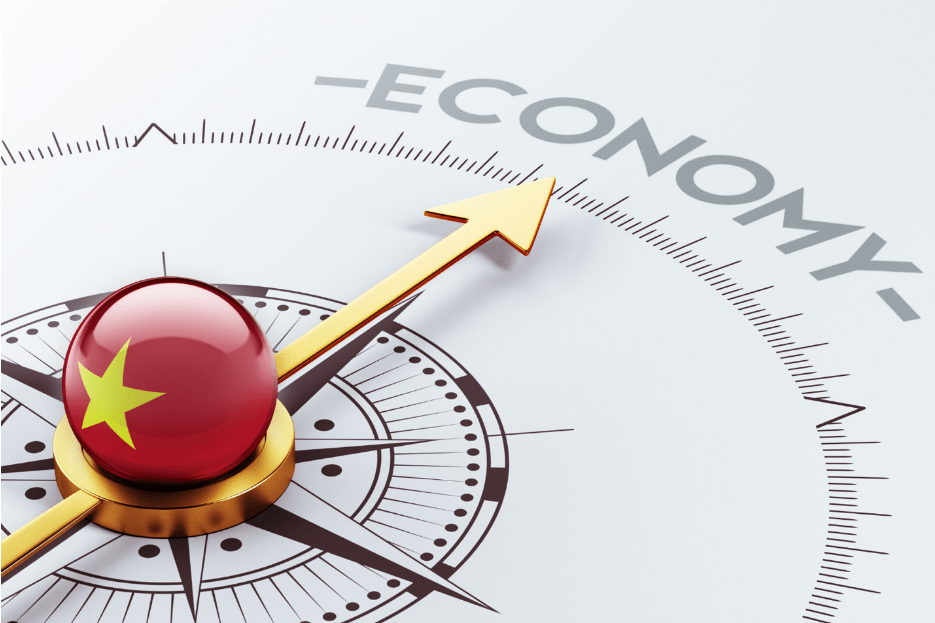 In a speech before the National Assembly in October of 2022, Prime Minister Pham Minh Chinh confirmed his earlier prediction that Vietnam's economy will grow by 8 percent this year, well beyond analysts' projections.
This is a very audacious assertion, considering that last year the Vietnamese economy suffered greatly owing to panic about a potential epidemic.
This is hardly shocking, however, considering that Vietnam's economy grew by 2.6% in 2021, making it one of the few nations to do so throughout the epidemic.
Is there anything special about the Vietnamese economy that has kept growth rates high?
Investment in infrastructure, a favourable trade climate, and wage competitiveness are the three most important aspects.
Vietnam is making significant investments in infrastructure.
About 6% of Vietnam's GDP goes into building roads and other infrastructure. If you compare it to other ASEAN countries, you'll find that this is rather high.
The planned 1,800-kilometer HCMC-Hanoi motorway, the Long Thanh International Airport (which will ultimately replace HCMC's overcrowded Tan Son Nhat), metro projects in Hanoi and HCMC, and thermal and waste-to-energy generating plants are also part of this investment.
These developments are promising, but Vietnam's infrastructure still has a long way to go. In many manufacturing facilities, for instance, people are still relied upon rather than automated systems.
The government, however, intends to alter this, and as such, has proposed financial incentives for the technological sector. Used equipment older than 10 years has been removed from sale.
Global trade is an area in which Vietnam actively engages.
Vietnam has been quite busy in recent years forging bilateral trade deals with nations all around the globe. By virtue of being an ASEAN member, it is also a signatory to the many free trade agreements that ASEAN has negotiated on the bloc's behalf.
Guarantees under these agreements for product quality, production, and labour rights will help Vietnam become a manufacturing powerhouse and increase its exports.
To provide just one example, the EU-Vietnam free trade agreement (EVFTA) has helped increase Vietnamese exports despite the epidemic. It is estimated that in 2021, thanks in large part to the UK-Vietnam free trade agreement (UKVFTA), commerce between Vietnam and the UK would have reached over US$6.6 billion.
Exports to Canada and Mexico also rose with the implementation of the Comprehensive and Progressive Agreement for Trans-Pacific Partnership (CPTPP).
Vietnam's government has enacted investor-friendly laws to encourage growth and foreign direct investment. These are significant attractions for businesses considering setting up shop in Vietnam. The growing number of FTAs Vietnam has signed has made this process more streamlined.
Wages in Vietnam have kept pace with the rest of the market.
Competitive salaries are one of Vietnam's greatest strengths. China has long been the world leader in manufacturing, but as costs have increased, many companies have relocated to other countries to better protect their profit margins.
Vietnam has a youthful, vibrant workforce that is ready to fill the void until it can establish a competent labour force. It also has a cost-effective youthful workforce. Among the top 10 nations with the most engineers, Vietnam has a high concentration of scientific and engineering students (almost 40% of all university graduates).
Wages in Vietnam will increase as the country's economy develops. As a result, it will need to strike a balance between inflation, pay levels, and productivity so as not to throw off the economy as a whole, particularly its employment sector.
Vietnam will need to shift its attention to building its service economy, high-tech industries, and domestic consumption since its low labour costs are unsustainable in the long run.
Soaring gas prices and general inflation pose a major problem.
But there are other indicators of forthcoming difficulties that might become more severe.
A gasoline scarcity has lately been observed in HCMC and the adjoining southern regions. Hanoi, the nation's capital, was not immune.
When the government started charging more for gas, things started looking better, but they haven't totally recovered. Vietnam's economy is also being buffeted by falling demand, increasing prices, and volatile political conditions.
The Purchasing Managers' Index for Vietnam from S&P Global, a gauge of industrial activity, dropped to 50.6 in October from 52.5 in September, marking a new low since October 2021. Manufacturing growth is indicated by a rating of 50 or above.
Vietnamese dong has depreciated 9.1% versus the dollar this year, which is lower than the depreciation of several other currencies.
There is widespread consensus that the Fed will increase interest rates to combat inflation.
Vietnam's prospects include steady development amid difficulties.
There are enough pull reasons to attract industrial enterprises to migrate to Vietnam, and the country's long-term development remains solid despite current difficulties.
The foreign direct investment (FDI) numbers for Vietnam seem good: the country has received US$17.5 billion so far this year, up 15% from the same period last year.
The European Chamber of Commerce reports that Vietnam's trade environment and workforce are attracting FDI, which is helping to fuel economic development. This is despite the fact that many manufacturing facilities have shut down as a result of weak demand across several product categories in the West.
In spite of ongoing geopolitical concerns, Vietnam's economic outlook remains bright. In order to guarantee they are well-equipped to handle market fluctuations, potential investors should do thorough research. Although prices may rise in the near future, patient investors will be rewarded in the long run.
Secure the growth of your business and investments in Vietnam.
It is no secret that Vietnam has become a global industry player, but it does not mean you should be complacent. Keep growing your Vietnam-based businesses with TradeData.Pro, an all-inclusive global trade data platform. By availing subscription, you can access unlimited data, like shipping, customs, imports, and exports.
To learn more about trade specifics, you may examine shipment statistics. Value, cargo volume, and transit method are among the details. You may get comprehensive contact information for purchasers, including their names, addresses, and any previous imports or exports that the firm may have had.
Using our statistics and data on international commerce, you may also identify prospective customers and monitor the imports of your rivals. Finally, you may get updates on all export actions, quality customs data, and shipping information depending on customs.
Visit our website to see more about TradeData.Pro features!
To find out more about accessing a new market, you can check out this article which shows you how to use TradeData.Pro to access Global Trade Markets: https://blog.tradedata.pro/say-hello-to-our-new-release-of-tradedata-pro/
---
The most trustable and reliable source for Trade Data.
TradeData.Pro is proudly made in Singapore. Singapore has been one of the world's most politically stable countries, with an open and trade-driven economy. TradeData.Pro is presented by CIC, a government-linked company in Singapore CIC is a Join Venture of Zall Smartcom, SGX and GeTS.)
Since the launch of TradeData.Pro in 2018, TradeData.Pro has received overwhelmingly positive remarks from market. This is because TradeData.Pro has wide coverage, low cost, and fast response. There are many leading companies from different industries that have subscribed to TradeData.Pro.
TradeData.Pro was awarded with Singapore Quality Class in 2020 and Stevie Award Gold in 2021. Businesses need information to reveal trends, identify market opportunities, track competitors buyers and suppliers, and better understand supply chain potential.
Finding these critical data has traditionally been challenging. But this information do exist, but as part of government import and export filing requirement. The detailed shipment information which are within these filings constructions the core of the global trade.
TradeData.Pro has gathered and packaged these information as business intelligence. Our solution helps companies understand the flow of goods across borders and features the world's largest searchable trade database. We do the heavy lifting for you by reviewing, standardising, and cleaning data, then delivering in an intuitive format.
Vietnam has been the hottest industry lately, to stay updated on Vietnam, you can view all these information on Vietnam in here on our platform: https://data.cic-tp.com/asia-trade-data/vietnam-import-export-data