Overview of Vietnam's footwear industry
According to "Research Report on the Footwear Industry in Vietnam, 2022-2031" from Research and Markets, Vietnam is one of the world's greatest footwear manufacturers, ranking second only to China in terms of leather and footwear exports. Every year, Vietnam exports over 1 billion pairs of footwear of various types to hundreds of countries worldwide. Vietnam's footwear exports to the EU, in particular, account for the majority of total exports. By the end of 2021, there are about 2,200 businesses producing footwear in Vietnam, most of which are concentrated in Ho Chi Minh City. The country earned some US$20.78 billion from leather and footwear exports in 2021.
According to the analyst's findings, two global footwear giants, Nike and Adidas, have chosen Vietnam as their primary production base. Because of lower costs, a portion of the global footwear chain is gradually moving from China to Vietnam. Adidas has chosen Vietnam as its primary manufacturing location, while Adidas' arch-rival, Nike, has over 100 suppliers in Vietnam, with 96 of them concentrated in the south.
Vietnam's footwear exports fell 8.6% YOY to US$16.75 billion in 2020 as a result of COVID-19, according to analyst analysis. Vietnam's footwear products were exported to over 100 countries in 2021, with approximately US$17.8 billion in footwear production. In 2021, Vietnam's footwear exports saw a resurgence in growth.
A more important driver for Vietnam's optimism about footwear exports is that the country has signed trade agreements beneficial to exports with Europe and the United States. For instance, under the EU-Vietnam Free Trade Agreement (EVFTA), Vietnam's footwear exports to the EU account for approximately 40% of total exports. Comprehensive and Progressive Agreement for Trans-Pacific Partnership (CPTPP) helps to grow Vietnam's footwear exports to Canada and Mexico.
Although Vietnam has signed numerous agreements with developed countries to promote exports, the strength of Vietnam's domestic footwear enterprises still needs to improve, and foreign companies continue to dominate the Vietnamese footwear industry. The analysis predicts that Vietnam's footwear production and exports will continue to grow in 2022-2031. In the coming years, there will be numerous investment opportunities in the Vietnamese market for companies involved in the global footwear industry chain.
Footwear Production shift from China to Vietnam
Although it lacks China's domestic demand, Vietnam's footwear industry thrives, exporting a billion pairs of shoes yearly. According to analysts, the country will continue to benefit as footwear manufacturers shift production from China to its southern neighbour.
Investors are becoming increasingly concerned about China's zero-Covid policy, especially in the manufacturing sector. The lockdown of Putian, a major shoemaking hub with over 500,000 workers and 4,200 manufacturers, in September 2021 exemplifies this concern. Besides, lockdowns in Shanghai have also disrupted footwear supply chains, resulting in raw material shortages. This has influenced global production as China produces both finished footwear and raw materials for the footwear industry.
It is worth noting that Vietnam imposed similar restrictions to China on footwear manufacturers. In 2021, some factories were forced to close for months, which significantly impacted supply chains. However, compared to China, Vietnam has taken a more business-friendly approach since March 2022, abolishing entry quarantine regulations. After this, you can also read more about Vietnam's economic prospects here.
Aside from pandemic-related disruptions, labour costs are a significant factor, with wages in Vietnam being roughly half of those in China. As a result, other countries, particularly those in ASEAN, are becoming increasingly appealing to companies that currently manufacture in China, with comparative wages being a key factor.
Adidas' Production in Vietnam
Adidas footwear production in Vietnam accounts for the second largest (30%) of the total production
Vietnam has been a major sourcing country of Adidas products, mainly footwear and apparel. For the past five years, Vietnam has ranked in the top 3 among all the sourcing countries of Adidas footwear and apparel production. According to Adidas Annual Report 2019, 98% of Adidas' footwear products were produced in the Asian region, while Vietnam accounts for 43% of the total volume produced. Despite 2019, it also remained over 40% in 2017(44%), 2018 (42%), and 2020 (42%). Even though in 2021, India overtook Vietnam to become Adidas footwear's largest sourcing country, Vietnam still accounts for a higher share of Adidas's production.
Adidas expansion production in Vietnam
According to the Vietnam News Agency, the CEO of Adidas was speaking when he met with PM Chinh in Hanoi on October 21, 2022, following their two previous phone calls in September 2021 and March 2022.
Both parties expressed their continued willingness to collaborate during the courteous meeting. The Adidas CEO, Kasper Rorsted, stated that the group would invest in expanding its business in Vietnam and creating more job opportunities, making the country one of Adidas' main production centres. He also proposed that the Vietnamese government create conditions allowing Adidas to become more involved in human resource training in Vietnam.
In response, the PM expressed support for Adidas' business expansion plan as well as its suggestion to engage in human resource development, particularly vocational skill training for Vietnamese workers. According to Chinh, Vietnam is Germany's largest trade partner in Southeast Asia, with Adidas playing a significant role. He suggested that the group make it easier for Vietnamese companies to participate in high-value stages of their global supply chain.
Furthermore, the PM asked that the sportswear conglomerate persuade the legislatures of EU member countries to quickly ratify the EU-Vietnam Investment Protection Agreement (EVIPA), which he described as a powerful driving force for bilateral investment ties as well as Adidas' operations in Vietnam. PM Chinh also called on Adidas to recommend policies for Vietnamese citizens. In addition to Adidas' operations in Vietnam.
Additionally, the PM asked Adidas to recommend policies to the Vietnamese government for the country to develop a digital economy, achieve green growth, and meet its climate change commitments.
CEO Rorsted expressed his confidence in the successful development cooperation between Vietnam and Germany in general, and Adidas in particular, in the future. He confirmed that he would personally carry out PM Chinh's recommendations and encourage other stakeholders to follow suit. In particular, Adidas.
After this meeting, the German Adidas Group is expected to increase its production business in Vietnam. This decision is quite critical to Vietnam as footwear is one of Vietnam's most important exports. The country's export revenues increased 15.9% to $312.82 billion in the first ten months of 2022, with footwear accounting for US$20.06 billion, up 40.9% year on year, or 6.4% of the total. Therefore, the expansion of Adidas' production is expected to boost Vietnam's economy by creating more job opportunities and income.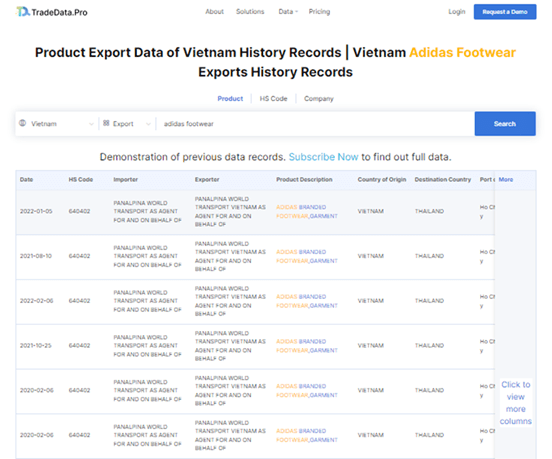 Use TradeData.Pro to be updated on Adidas footwear exports from Vietnam
Are you wondering about following up on the Adidas production in Vietnam? Access and subscribe TradeData.Pro now to acquire more export data in Vietnam. TradeData.Pro Vietnam Export Data includes shipment information such as exporter name, buyer name, arrival country, sender country, HS code, product description, quantity, weight, value, and more. We offer detailed, exclusive Vietnam trade data that enables you to acquire a more comprehensive picture of Vietnam's export activity. You can continually track the Adidas production volume in Vietnam, the export country of the product as well as the trends of the footwear production industry in Vietnam. Besides you can also read more about Vietnam's export trade here. Also, more blog resources about the Vietnam trade are available here.
The most trustable and reliable source for Trade Data.
TradeData.Pro is a reliable and trustworthy source of trade data proudly made in Singapore, a country known for its stable political climate and trade-driven economy. Presented by Commodities Intelligence Centre, a government-linked company and a joint venture of Zall Smartcom, SGX, and GeTS, TradeData.Pro has received positive feedback from the market since its launch in 2018 for its extensive coverage, affordability, and fast response. The platform has been awarded the Singapore Quality Class in 2020 and the Stevie Award Gold in 2021.
Traditionally, obtaining critical data to reveal trends, identify market opportunities, track competitors, buyers, and suppliers, and better understand the potential of the supply chain has been a challenge. However, the detailed shipment information that is part of government import and export filing requirements does exist and forms the core of global trade. TradeData.Pro has gathered and packaged this information as business intelligence, which helps companies understand the flow of goods across borders and features the world's largest searchable trade database. TradeData.Pro reviews, standardizes, and cleans data and delivers it in an intuitive format, making it easier for businesses to access.
Businesses interested in staying updated on Vietnam, the hottest industry lately, can access all relevant information on the TradeData.Pro platform. They can find the exact product they're interested in by checking out the trade database demo at https://tradedata.pro/asia-trade-data/vietnam-import-export-data/. To learn more about accessing new markets, visit https://tradedata.pro/trade-database-demo/.
Additionally, businesses can check out this article to learn how to use TradeData.Pro to access Global Trade Markets: https://blog.tradedata.pro/say-hello-to-our-new-release-of-tradedata-pro/. To understand how TradeData.Pro works, watch the video below or visit https://www.youtube.com/watch?v=tITfUvjs6Gc.