The electronics industry has grown significantly in Vietnam and has driven its GDP. The emergence of the low-cost electronics industry in Vietnam has brought Vietnam to be listed as one of the top electronic exporters, with an export value of US$131.39 Billion in 2021. Vietnam stands 12th globally and in third place in ASEAN electronics export. The hopped ranking makes the low-cost electronics industry in Vietnam sound more appealing and seems a brilliant choice to invest in. Therefore, Vietnam has become an excellent place for multinational companies such as Samsung, Intel and LG.
Why low-cost electronics industry in Vietnam is a great investment
Vietnam is touted as one of the countries with low labour costs. Comparatively, it has much lower hourly pay than other countries engaged in the manufacturing sector; The average hourly wage in Vietnam is 29,318 VND (around US$1.22), while CNY 27 (around US$3.87) is offered in China. This contributes to Vietnam's increasing position as a more cost-effective alternative than its regional counterparts.
How to acquire leads for low-cost electronics business in Vietnam
1. Maximise digital marketing.
In this digital era, digital marketing is one of the top choices in acquiring leads for businesses, and it works in Vietnam too. To acquire leads, you can start by creating online content related to the low-cost electronics industry in Vietnam; this would be helpful for the target audience, who are people or businesses who are interested in being part of the low-cost electronics business in Vietnam.
Consistently sharing meaningful insights about the industry can position you as a knowledgeable business party and gain your target customers' trust. Besides preparing insightful content, it's suggested to improve the business website's SEO, boosting the organic traffic to your websites, and eventually attracting high-quality leads. The other way of acquiring leads organically is to participate actively on forum platforms such as Quora and Reddit, which would better expose your business to a large audience.
If you have more budget and wish to acquire as many leads as possible, you may consider setting up advertisements on platforms such as LinkedIn, Facebook, YouTube etc. However, an effective advertisement, that can acquire many leads, requires creative copywriting and visual assets. Hence, businesses often spend big bucks on engaging professionals for digital marketing planning and execution.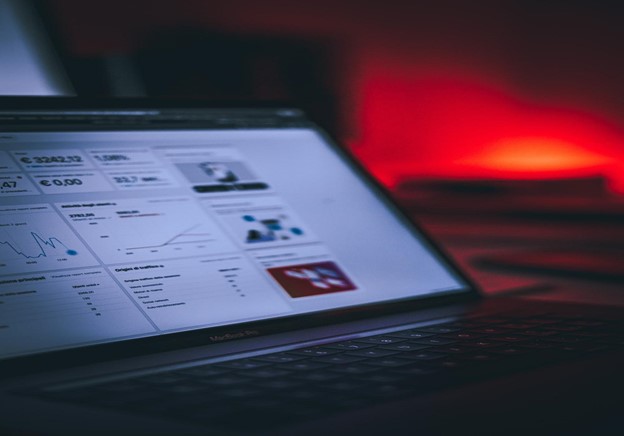 2. Utilise reliable trade data platforms.
A typical trade data platform would show you import-export data that is updated from time to time which help to identify which company is actively engaging in that particular industry in the country. From there, you may know potential customers and acquire leads. Nonetheless, there are platforms that are even better and more reliable due to their source of data and the extent of trade details provided.
For example, TradeData.Pro's data has been providing insights on sales prospects whose trade records not only have basic details of the company but also the previous import and export records as well. Through the platform, you will find out which companies are actively doing low-cost electronic businesses in Vietnam.
Furthermore, TradeData.Pro helps to identify recent market trends to gain competitive advantage and even provides you with trends visualisation that can forecast the markets and reveal companies' financial positions. The key to getting the import-export data is reliable sources, and TradeData.Pro provides high-quality data sources. Their data is collected from the customs bureau of each country, well-known shipping companies and authoritative data providers. What makes TradeData.Pro look more surprising is that they have more than 2 billion data covering over 100 countries.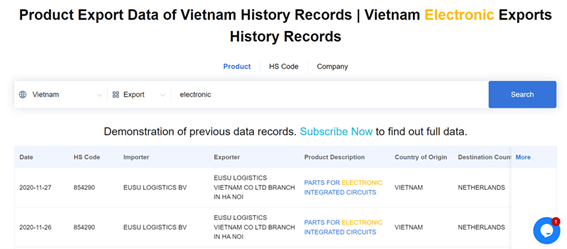 3. Participate in trade shows.
A trade show is an event that gathers members of a particular industry to showcase, demonstrate and discuss their latest products and services and even form connections with other like-minded professionals. Trade shows, such as Trade Shows in Vietnam, would benefit you as a business owner or trader interested in the low-cost electronics industry in Vietnam.
You will be given a chance to share your product or services or your ideas, and your presentation or prideful showcase will reach a large audience, who may be your potential customers. Having a trade show exposes you with the chances of meeting them physically and exchanging ideas with them regarding industry trends. From there, you may identify and assess whether they are high-quality leads that are worth investing in more effort. That said, acquiring leads via engagement and conversations is time-consuming as it takes time to filter good leads by talking to each of them.
Conclusion
We hope you have a better idea now on lead acquisition for the low-cost electronics industry in Vietnam. Lead acquisition is a continuous process, and you can effectively acquire leads for the low-cost electronics industry in Vietnam by adopting ways that suit you the best.
If you are serious about starting or expanding your business in the electronic industry in Vietnam, it's highly recommended to leverage on import-export data of the industry to identify high-quality leads. Import-export data from TradeData.Pro would help you to filter good leads simply through their previous import and export data that determines their reliability. TradeData.Pro would effectively help you to acquire qualified leads by utilising their buyer lists in identifying potential customers.
Our platform, TradeData.Pro provides you access to export and import data that is able to evaluate your supplier to filter high quality and reliable suppliers for your business. And you can monitor how your competitors are doing, and utilise the market trends from TradeData.Pro to identify opportunities, thereby gaining competitive advantage. Contact us and use TradeData.Pro to make the first move and better-informed decisions.
TradeData.Pro can help you manage your investments.
If you're looking to invest in the automobile sector or you're someone who is managing assets, our solutions at TradeData.Pro can help make your lives easier!
With TradeData.Pro, you can obtain information and insights related to the automobile sector to help you identify the best firms and investment opportunities to support your investment objectives. Utilise the useful insights and possibilities of import-export statistics!
You can also discover fresh investing ideas thanks to our comprehensive Bilateral Trade Data and analytics. Managers develop original strategies and get insights into new sources of prospective business with the use of research-specific targeted goods, researchers, quantitative analysts, and portfolios.
Furthermore, you can develop effective ways to identify risk factors and to acquire a thorough picture of your trading and investment performance. By using our Global Trade Statistics, you may assess trade risk, do research, and finish building your portfolio. Gain critical knowledge and analyse your company's performance in-depth to develop business expansion ideas.
Subscribe to TradeData.Pro now or schedule a demo with one of our sales experts via WhatsApp!
The most trustable and reliable source for Trade Data.
TradeData.Pro is proudly made in Singapore. Singapore has been one of the world's most politically stable countries, with an open and trade-driven economy. TradeData.Pro is presented by CIC, a government-linked company in Singapore CIC is a Joint Venture of Zall Smartcom, SGX and GeTS.
Since the launch of TradeData.Pro in 2018, TradeData.Pro has received overwhelmingly positive remarks from market. This is because TradeData.Pro has wide coverage, low cost, and fast response. There are many leading companies from different industries that have subscribed to TradeData.Pro.
TradeData.Pro was awarded with Singapore Quality Class in 2020 and Stevie Award Gold in 2021. Businesses need information to reveal trends, identify market opportunities, track competitors buyers and suppliers, and better understand supply chain potential.
Finding these critical data has traditionally been challenging. But this information do exist, but as part of government import and export filing requirement. The detailed shipment information which are within these filings constructions the core of the global trade.
TradeData.Pro has gathered and packaged these information as business intelligence. Our solution helps companies understand the flow of goods across borders and features the world's largest searchable trade database. We do the heavy lifting for you by reviewing, standardising, and cleaning data, then delivering in an intuitive format.
Vietnam has been the hottest industry lately, to stay updated on Vietnam, you can view all these information on Vietnam in here on our platform: https://data.cic-tp.com/asia-trade-data/vietnam-import-export-data
Find the exact product you are interested in here at https://tradedata.pro/trade-database-demo/
To find out more about accessing a new market, you can check out this article which shows you how to use Trade Data Pro to access Global Trade Markets: https://blog.tradedata.pro/say-hello-to-our-new-release-of-tradedata-pro/
Learn how TradeData.Pro works by watching the video below! View here on YouTube as well: https://youtu.be/QQ9wG-CesI8