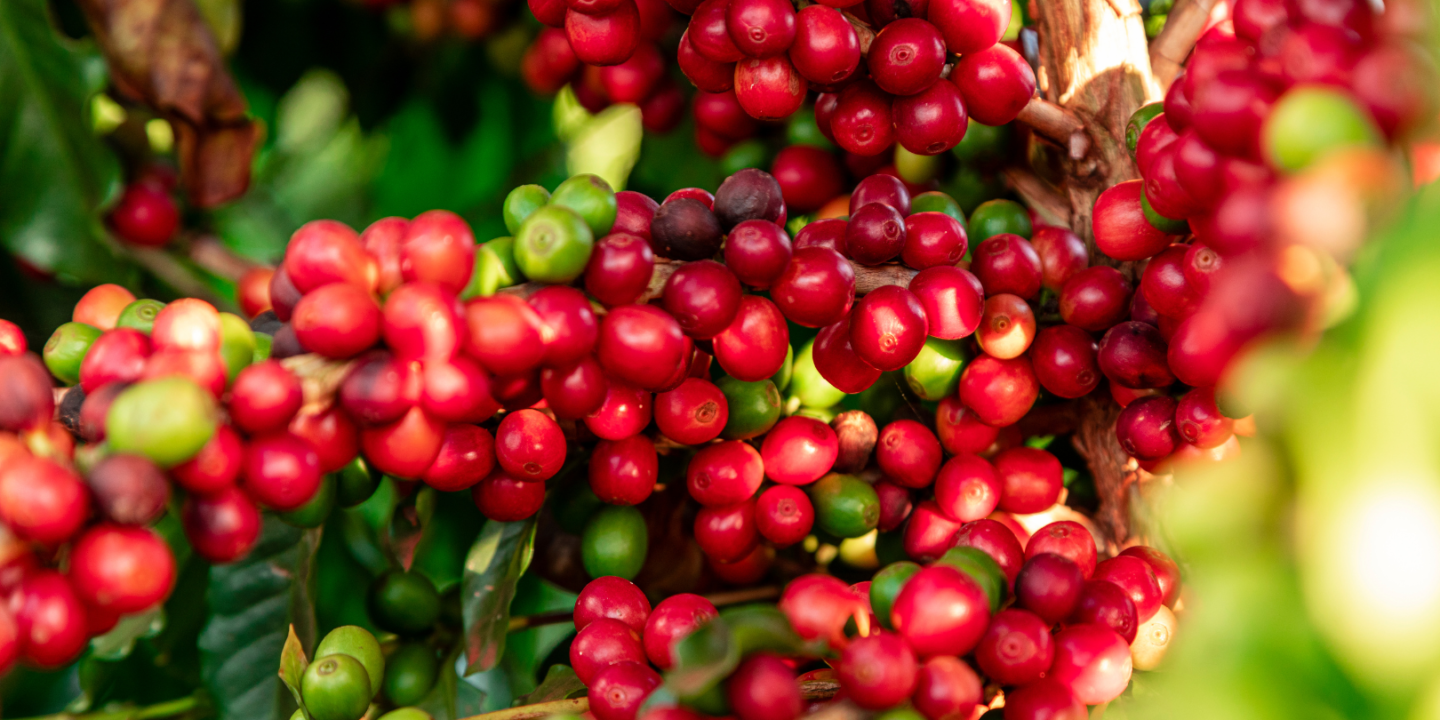 Coffee is a globally popular hot drink. Brazil, the world's top coffee-producing nation, supplied 40% of the world's coffee, with Vietnam and Colombia each contributing about 20% and 10%, respectively.
Coffee production has been a key element in Brazil's growth and still serves as a major contributor to the country's economy. The introduction of the plant to Brazil occurred in the early 18th century, courtesy of French colonists. As coffee consumption increased in Europe in the 1840s, Brazil emerged as the world's premier producer, a status it has held continually to this day.
In Brazil, approximately 300,000 coffee farms are dispersed over the landscape, with more than two million hectares of land dedicated to coffee cultivation. An annual average of 43 million bags of coffee is produced, with at least 70% of the yield being Arabica.
An ideal coffee plantation environment in Brazil

Brazil's climate, terrain, and soil make it ideal for growing high-quality coffee. With warm temperatures, abundant rainfall, and varied elevations due to mountainous terrain, Brazil's diverse microclimates support various coffee varieties. Despite lacking volcanic soils, the nutrient-rich earth produces coffee beans with complex flavours and aromas.
Brazil has 14 main coffee-producing regions across seven states, each with unique characteristics and opportunities to experiment with varietals and processing methods. The top three coffee-growing cities are Minas Gerais, So Paulo, and Parana, all located in the country's southeasternmost area.
Minas Gerais, Brazil's largest coffee-growing state, provides for roughly half of the country's output. It is also a significant supplier of Brazilian speciality coffee.
Despite these three cities, Brazil's coffee production regions include Espirito Santo, Bahia, Rondonia, and Rio de Janeiro.
The main coffee types produced in Brazil
Arabica coffee accounts for 70% of Brazil's coffee output and is grown in the southeastern mountains for its sweet, mild flavor. Minas Gerais is the main producer of Arabica coffee in Brazil.
The remaining 30% is Robusta coffee, grown in Espirito Santo, known for its earthy taste and used in blends with Arabica.
The most commonly used method in Brazil is the dry process, where coffee beans are dried in the sun without wate
Brazilian coffee farmers face challenges of adverse climate
Climate change is a significant threat to agricultural output globally, including in Brazil. The effects of climate change on farmland include shifts in water availability and more extreme weather events. By 2030, it is estimated that climate change in Brazil could result in the loss of 11 million hectares of arable land, with coffee cultivation being particularly vulnerable. Private farming businesses can take steps to reduce these risks, such as planting genetically modified plants that can adapt to changing conditions or creating cultivars that can withstand heat and drought. Although this can be expensive, it is an effective way to respond to climate change.
Climate issues such as low rainfall, protracted droughts, and above-average temperatures for a large portion of its growth in 2021 crept into 2022 and negatively affected the 2022 coffee harvest lower than expected.
However, in 2023, although it is the "low season" of coffee, Brazil's harvest is expected to break the negative biennial cycle of coffee harvesting and then grow by 8%.
Brazil domestic coffee consumer market
Brazil's domestic coffee industry is crucial because coffee is an integral component of Brazilian culture and daily life. Brazil is the global greatest coffee supplier and consumers consume roughly 20 million bags of coffee per year. In Brazil, coffee is taken throughout the day, with breakfast being the most common period.
Additionally, coffee is a societal and cultural institution in Brazil, not just a beverage. Friends and family frequently connect over coffee; many companies have coffee breaks during the day. Brazilian coffee stores, or "cafeterias," are also common gathering and socialising places.
Brazil's coffee industry is extremely competitive, with a wide range of brands and roasts accessible to consumers. While the majority of coffee consumed in Brazil is roasted and ground in the country, there is an increasing desire for speciality coffee. Speciality coffee stores and cafes have grown in popularity in big areas such as Sao Paulo and Rio de Janeiro, appealing to a more discerning customer ready to pay a premium for high-quality coffee.
Responding to customer demand for ethically sourced coffee, Brazilian coffee roasters and sellers have started to concentrate on sustainability and fair trade practises. To minimise environmental effect and keep soil health, many Brazilian coffee producers have embraced sustainable farming practises such as shade-grown coffee.
Brazil coffee exportation
Over the years, Brazil's coffee export trend has been gradually growing. However, due to adverse climate factors such as droughts and frosts, the country has encountered some difficulties in its coffee output in recent years, affecting the amount and quality of coffee created. Despite these difficulties, Brazil's coffee export output has stayed steady, with some year-to-year fluctuations.
Brazil's future coffee export prospects remain positive. The country has implemented various initiatives to improve coffee production and increase yields, including investing in research and development, introducing new technology, and providing technical assistance to farmers. Furthermore, Brazil's coffee industry has been working towards sustainability, promoting practises that conserve natural resources and protect the environment. Read more about Brazil's sustainable agricultural development in this blog.
These initiatives are anticipated to boost Brazil's global coffee market competitiveness and keep it the world's top coffee producer.
Germany, the United States, Belgium, Italy, and Japan are the top five destinations for Brazil's coffee exports.
According to the industry, Brazil's coffee shipments are expected to be 36.65 million bags in MY 2022/23, down 2.4 million bags from the previous year due to reduced trade flow.
In January 2023, Brazil's coffee exports totalled $628 million, while imports totalled $7.1 million, resulting in a $621 million favourable trade surplus.
Brazil's coffee shipments fell by $32.8 million (-4.97%) between January 2022 and January 2023, from $661 million to $628 million.
Be part of the growing Brazilian coffee industry
Brazil's coffee industry is huge and composed of many branch industries that specialise in cultivation and processing of coffee beans and machine manufacturing.
These industries include:
Coffee growers
Coffee roasters
Coffee beans processors
Coffee packaging and distribution companies
Coffee machine manufacturers
Coffee packaging and distribution companies
Speciality coffee importers and exporters
etc.
The Brazilian coffee industry chain is highly interconnected, forming a massive market. It is crucial to link with other players to succeed in this industry. For instance, as a coffee powder seller, you must find high-quality coffee bean growers and machine suppliers to help with production of coffee powder. The quality of coffee beans will directly impact the taste of your end-product, and sourcing them from trusted coffee bean suppliers will help you maintain consistency in your product quality.
Strong partnerships with suppliers and distributors are essential for optimising operations and lowering costs. Reliable suppliers offer raw materials, timely delivery, and competitive pricing. Also, working with partners who share your vision enhances your brand and expands your audience.
Additionally, constantly seeking new potential customers is very important to maintain a stable stream of revenue for your business. To convert your competitors' customers to be your own customer, it is vital to gather reliable data of your competitors' business or trade activities.
People typically attend Brazilian coffee trade exhibitions, seminars, or other industry events to meet potential partners and customers, and also to collect information about competitors. However, TradeData.Prooffers you another more efficient option to get intelligence on your business partners, suppliers, consumers, and even competitors. Moreover, our comprehensive and organised data can assist you in analysing and screening potential partners, saving you time and enhancing your efficiency.
For example, by utilising TradeData.Pro platform to search for Brazilian roasted coffee bean exporters, you can access valuable information about coffee bean roasters in Brazil, including their company details, product categories, and export sales. As a coffee beverage manufacturer, you can filter and contact suitable roasted coffee bean suppliers for your business.
Establishing strong relationships with reliable suppliers, distributors, and customers by using TradeData.Pro helps you build a successful and sustainable coffee business that stands the test of time.
You can find more Brazilian coffee import and export data at TradeData.Pro. Also, read our articles for more updates on global trade. We provide reliable global trade data and information to help you expand international trade. Discover more advantages that TradeData.Pro will bring to you. Schedule a demo now!
TradeData.Pro provides businesses with valuable insights into trade data, helping them identify potential opportunities to explore. The platform offers a range of features and tools that make it easy for users to search and access the information they need. You can search for trade data by product, company, country, or HS code, and get access to detailed information about importers, exporters, suppliers, and customers, as well as shipping data such as the quantity, value, and port of origin/destination.
Sign up now on our website! Give our Instagram, TikTok, and Facebook channels a follow for the latest trade news and updates!
Want to learn more? Contact one of our sales representatives on WhatsApp to set up a demo!
The most trustable and reliable source for Trade Data.
TradeData.Pro is a reliable and trustworthy source of trade data proudly made in Singapore, a country known for its stable political climate and trade-driven economy. Presented by Commodities Intelligence Centre, a government-linked company and a joint venture of Zall Smartcom, SGX, and GeTS, TradeData.Pro has received positive feedback from the market since its launch in 2018 for its extensive coverage, affordability, and fast response. The platform has been awarded the Singapore Quality Class in 2020 and the Stevie Award Gold in 2021.
Traditionally, obtaining critical data to reveal trends, identify market opportunities, track competitors, buyers, and suppliers, and better understand the potential of the supply chain has been a challenge. However, the detailed shipment information that is part of government import and export filing requirements does exist and forms the core of global trade. TradeData.Pro has gathered and packaged this information as business intelligence, which helps companies understand the flow of goods across borders and features the world's largest searchable trade database. TradeData.Pro reviews, standardizes, and cleans data and delivers it in an intuitive format, making it easier for businesses to access.
Businesses interested in staying updated on Vietnam, the hottest industry lately, can access all relevant information on the TradeData.Pro platform. They can find the exact product they're interested in by checking out the trade database demo at https://tradedata.pro/asia-trade-data/vietnam-import-export-data/. To learn more about accessing new markets, visit https://tradedata.pro/trade-database-demo/.
Additionally, businesses can check out this article to learn how to use TradeData.Pro to access Global Trade Markets: https://blog.tradedata.pro/say-hello-to-our-new-release-of-tradedata-pro/. To understand how TradeData.Pro works, watch the video below or visit https://www.youtube.com/watch?v=tITfUvjs6Gc.