The United States is one of the largest automotive markets in the world. Vehicle exportation from the United States covered 7.88% of its total exports in 2020, amounting to US$105.94B. More surprising is that 14.5 million light vehicles were sold in the United States. This shows that the United States is actively engaged in the automotive industry and is achieving excellent results. The United States is ranked as the world's second-largest vehicle sales and production manufacturer. This makes the United States an ideal place to start or expand the automotive business. If you want to learn more about the United States' export goods, click here.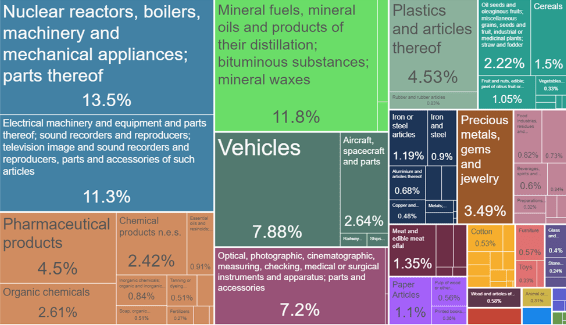 7.88% of United States' 2020 exports are vehicles showing the potential of the automotive industry
However, identifying the right and reliable automotive suppliers in the United States may take time due to unfamiliarity with a foreign business environment and there are too many choices available in the market. In fact, there are a number of ways to find automotive suppliers in the United States. Read on to find out more about the different ways to get reputable and reliable automotive suppliers in the United States.
1. Check online directories
An online business directory is a searchable online registry where listings are grouped according to categories. When you search for the information you want by industry, niche, or product, the business directory will help you to search for companies, services or products in your area in a more targeted way. Moreover, the business directory would readily present the key information of the businesses, such as name, address, contact information, associations, and the services and products offered. It also gives you ease by linking to the corresponding company's website. Many online directories are available in the United States; for instance, ThomasNet, MFG.com and Industry Net are popular online directories for industrial ones. A business directory provides you with hundreds to thousands of relevant automotive suppliers in the United States within seconds without spending much time there.
2. Attend a trade show
Attending trade fairs can be helpful in finding automotive suppliers in the United States. A trade show is an event that gathers members of a particular industry to showcase, demonstrate and discuss their latest products and services and even form connections with other like-minded professionals. For instance, AAPEX 2023 and AutoAméricas Show 2023 are automotive supplier trade shows in the United States in 2023. While, AAITF ShenZhen 2023 and Automechanika Dubai are examples of automotive trade shows in 2023 that are outside the European region. You will be exposed to a large number of automotive suppliers through the trade shows, who will be presenting their latest products. This means you can reach out to them physically, communicate with them and have a real touch and view of the merchandise you are interested in, rather than viewing it online or waiting weeks for samples.
3. Utilise reliable trade data platforms
Compared to online directories, the trade data platform would show you import-export data that is updated from time to time which helps to identify which company is actively engaged in that particular industry in the country. The key to getting the import-export data is reliable sources, and TradeData.Pro provides high-quality data sources. Their data is collected from the customs bureau of each country, well-known shipping companies and authoritative data providers. Using import-export data, you may find dependable worldwide suppliers and buyers for your goods or services.
Trade data platforms such as TradeData.Pro can also help you find reliable automotive suppliers in the United States. TradeData.Pro provides you with shipment data such as information on transactions, supplier trade history, product specifics, cargo value, and export volumes from exporters all over the globe. Using this information, you may filter high-quality and reliable automotive suppliers in the United States. A reliable supplier would ensure the quality of your products hit the standards and keep your brand reputation as always. With TradeData.Pro, you can effectively locate suppliers and their trade prices using the information at your fingertips to develop better trading strategies.
Using TradeData.Pro, you can get to know the customs data related to the automotive suppliers in the United States. For instance, you may know the export data of the automotive industry in the US, such as the name of the automotive company or supplier and the continent to which it is exported, like Europe or Asia. From there, you know directly which companies are actively engaged in the automotive industry and buying or selling parts or accessories in the United States.
Insights about import and export trades in United States automotive industry is clearly shown at TradeData.Pro
Conclusion
The United States is one of the leaders in the automotive industry. Doing automotive business in the United States is challenging, especially if you are new to the country, since you might not have any reliable insights to support your business decision. However, there are many ways to find automotive suppliers in the United States, including online directories, trade fairs and trade data platforms. The most effective way would be using TradeData.Pro. TradeData.Pro provides you with the trading details of the suppliers in terms of the trade history of imports or exports as well as shipping data that you cannot find in the other two ways, enabling you to source for the most suitable and reliable suppliers for the automotive industry in the United States. Now that you have the info already for your suppliers, don't forget about your buyers, too. If you want to go international and export your products, you can read our guide here.
In addition to providing trade data, TradeData.Pro also offers valuable insights into global trade markets, helping you to expand your business and stay ahead of the competition. Don't miss out on the opportunity to gain a competitive edge in the automotive industry in Turkey. Contact us today to learn more about our services and how we can help you achieve sustainable business growth.
The most trustable and reliable source for Trade Data.
TradeData.Pro is a reliable and trustworthy source of trade data proudly made in Singapore, a country known for its stable political climate and trade-driven economy. Presented by Commodities Intelligence Centre, a government-linked company and a joint venture of Zall Smartcom, SGX, and GeTS, TradeData.Pro has received positive feedback from the market since its launch in 2018 for its extensive coverage, affordability, and fast response. The platform has been awarded the Singapore Quality Class in 2020 and the Stevie Award Gold in 2021.
Traditionally, obtaining critical data to reveal trends, identify market opportunities, track competitors, buyers, and suppliers, and better understand the potential of the supply chain has been a challenge. However, the detailed shipment information that is part of government import and export filing requirements does exist and forms the core of global trade. TradeData.Pro has gathered and packaged this information as business intelligence, which helps companies understand the flow of goods across borders and features the world's largest searchable trade database. TradeData.Pro reviews, standardizes, and cleans data and delivers it in an intuitive format, making it easier for businesses to access.
Businesses interested in staying updated on Vietnam, the hottest industry lately, can access all relevant information on the TradeData.Pro platform. They can find the exact product they're interested in by checking out the trade database demo at https://tradedata.pro/asia-trade-data/vietnam-import-export-data/. To learn more about accessing new markets, visit https://tradedata.pro/trade-database-demo/.
Additionally, businesses can check out this article to learn how to use TradeData.Pro to access Global Trade Markets: https://blog.tradedata.pro/say-hello-to-our-new-release-of-tradedata-pro/. To understand how TradeData.Pro works, watch the video below or visit https://www.youtube.com/watch?v=tITfUvjs6Gc.