Why Turkey is the next exporting giant
Because of its ideal transcontinental location, Turkey has been a vital trading partner connecting Asia and Europe for many centuries. As a result, the country has a close trading relationship with the United Kingdom. The total value of goods traded between Turkey and the United Kingdom in 2021 will be US$19.2 billion. This represents a significant increase of US$16.8 billion over 2020. Here are some of the reasons why you should consider importing from Turkey.
What can you import from Turkey
Vehicles other than railway or tramway, electrical machinery & equipment, machinery, mechanical appliances, knitted or crocheted apparel & clothing accessories, pearls and precious stones, articles of iron & steel are the top imports from Turkey into the United Kingdom. Turkey has a preferential trading agreement with the EU offering some great advantages as far as the EU Turkey customs union, making trade in 2022 is look increasingly strong for Turkeys' exports.
Record Sales to Germany, U.S., U.K.
Exports to the European Union, which account for nearly half of Turkey's total exports, increased 33% year on year to $93.1 billion, allowing Turkey to post a trade surplus of around $7.7 billion with the bloc. According to the data, sales to the United States increased 44.6% year on year, or $4.54 billion. Exports to the United Kingdom increased by 22% in the first year after Ankara and London signed a post-Brexit free trade agreement in December 2020 to support a $25 billion trade partnership. Now is the time to jump on board with the forecasted increase in Turkish exports. Selling products to an EU country or the UK can provide a high profit margin because product quality is superior for many products, as shown below, and a high selling price can be maintained.
If you're looking for some ideas to import from Turkey and sell here's our largest growth potential growth potential of Turkey products
Knitwear and Fashion Apparel ($16.676 billion in 2021, 23% increase)
Jewelry ($21.51 billion in 2021, 33.7% increase)
Turkish Carpets ($2.605 billion in 2020, 2.8% increase)
Turkish Furniture ($4.28 billion in 2021, 23.9% increase)
Turkish Ceramics ($1.2 billion in 2021)
Turkish Suits
Import Knitwear and Fashion Apparel from Turkey
According to data from the Turkish Statistical Institute and the country's trade ministry, apparel exports from Turkey increased by 23.02% year on year in the first eleven months of 2021. Turkey exported apparel worth $16.676 billion from January to November 2021, up from $13.555 billion in the same period in 2020. In 2021, Turkish footwear exports increased by 22.9% year on year, surpassing $1 billion for the first time.
Import Jewelry From Turkey
Turkey's exports increased 33.7% year on year, reaching an all-time high of $21.51 billion in November 2021. Germany was the top export partner, followed by the United Kingdom, the United States, Iraq, and Italy. Turkish jewellery exports increased significantly year on year in 2021. The value of Turkish gold and silver jewellery, gemstone and diamond exports, excluding bullion, was estimated to be up 180% in 2021, compared to 2020, due to rising demand in the United States and the Middle East. Following a very successful performance by Turkish exporters, the United States is set to leapfrog other destinations such as Dubai and become the number one export destination for the Turkish jewellery and gemstone sector in terms of value in 2021.
Import Carpets from Turkey
The Turkish Carpet is gaining popularity around the world. $2.605 billion were exported in 2020, representing a 2.8% increase in the carpet sector and a more than 10% increase year on year. The carpet industry is one in which Turkey is a world leader. Turkey has set an ambitious target of $5 billion per year by expanding the scale, and this can be an extremely profitable product that any importer should consider.
Import Ceramics From Turkey
In terms of the country's ceramic industry, Turkey's ceramic exports totalled around $1.2 billion last year. Turkey has one of the world's oldest and fastest-growing ceramic manufacturing industries. The ceramic tile manufacturing industry is one of Turkey's most developed industries. The country has risen to become one of the world's top ten ceramic tile manufacturers. The country's industry ranks eighth in the world and third in Europe. Turkish ceramics are in high demand in the United States, the United Kingdom, and Germany.
Import Furniture From Turkey
Turkish furniture exports increased by 23.9% to $4.28 billion in 2021. In the furniture sector, Turkey exported mostly to the United States, Germany, England, Iraq, and Israel in 2021. Bedsteads and cradles for children, armchairs, chairs, wooden furniture for dining and living rooms, metal furniture, and sofas that could be converted into beds were the most exported products during this time period.
Import Suits From Turkey
Turkish clothing exports will continue to rise, particularly to EU markets, as high Chinese wages make China less price competitive, and Turkish apparel has a much higher quality image than Chinese apparel. Another factor is the gradual depreciation of the Turkish lira, which provides a price advantage to Turkish exporters.
How to get started importing from Turkey?
Step 1: Start to source for Turkey products
Using Trade Data Pro, you will be able to see all the products being imported from Turkey. For example, by searching Turkey Export Tshirt, you will be able to see all the companies that are importing from Turkey factories. You will be able to see the importer, exporter, product description, the port of destination, port of loading, value and volume of the shipment. You can use this information to help you decide which product is worth importing.
Step 2: Start to source for Turkey exporters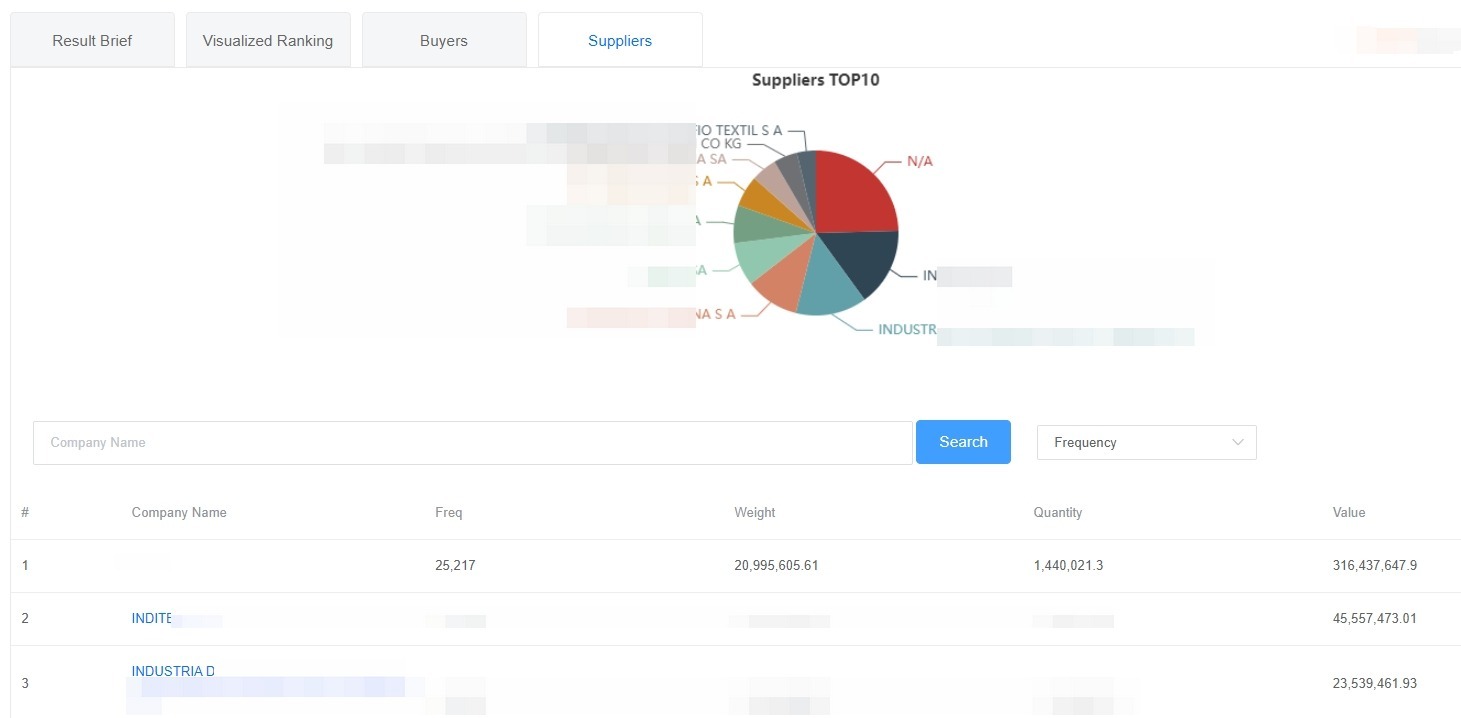 After deciding on the product you would like to import from Turkey, you can use Trade Data Pro to find suppliers for the products. Using Trade Data Pro, you will be able to see the companies currently exporting such products and get their contact information. You will be able to compare suppliers, prices, and verify their trade records.
Step 3: Start selling your Turkey products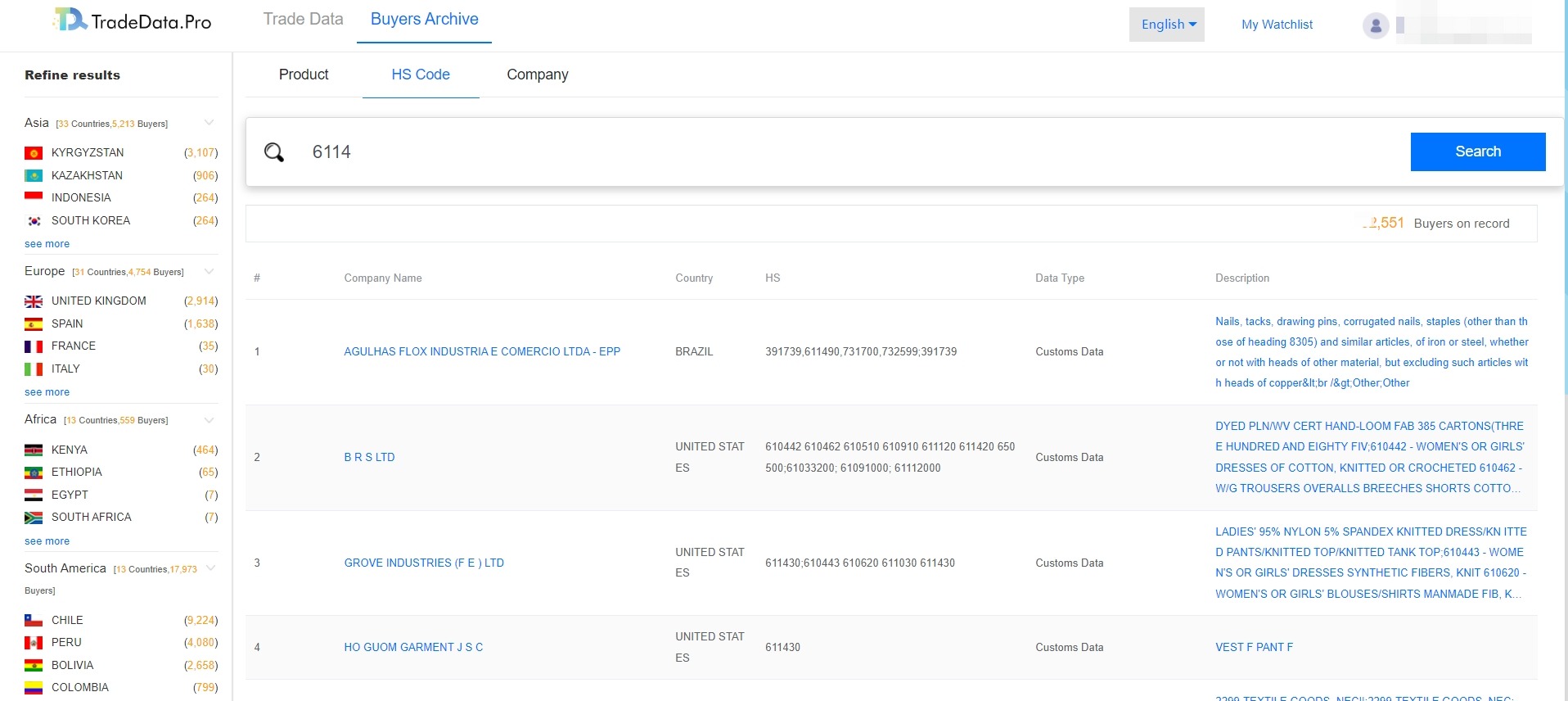 After importing from Turkey, you can now start to sell your products. By using Trade Data Pro, you will be able to see all the companies that are interested in "Tshirts". You will be able to get their contact information and see their transaction history.
2019 Data from Trade Data Pro
Top 10 Import Partners
Top 10 Import Goods
| | |
| --- | --- |
| HS Code | Import US$ |
| (27) Oil & Mineral Fuels | 41,731,206,756 |
| (84) Industrial Machinery | 22,158,492,038 |
| (85) Electrical Machinery | 15,445,701,311 |
| (72) Iron & Steel | 15,049,676,845 |
| (71) Precious Stones & Metals | 13,366,642,259 |
| (39) Plastics | 11,800,079,651 |
| (87) Motor Vehicles & Parts | 10,007,710,868 |
| (29) Organic Chemicals | 5,965,247,034 |
| (30) Pharmaceuticals | 4,911,312,180 |
| (90) Precision Instruments | 4,505,106,856 |
Top 10 Export Partners
Top 10 Export Goods
| | |
| --- | --- |
| HS Code | Export US$ |
| (87) Motor Vehicles & Parts | 26,901,185,364 |
| (84) Industrial Machinery | 17,761,876,908 |
| (72) Iron & Steel | 10,019,020,583 |
| (85) Electrical Machinery | 9,748,348,854 |
| (61) Apparel: Knit | 9,200,636,112 |
| (27) Oil & Mineral Fuels | 8,447,382,584 |
| (71) Precious Stones & Metals | 7,333,010,854 |
| (62) Apparel: Non Knit | 6,871,158,601 |
| (39) Plastics | 6,804,620,352 |
| (73) Iron & Steel Articles | 6,689,571,292 |
The most trustable and reliable source for Trade Data.
Trade Data Pro
is proudly made in Singapore. Singapore has been one of the world's most politically stable countries, with an open and trade-driven economy.
Trade Data Pro
is presented by CIC, a government-linked company in Singapore CIC is a Join Venture of Zall Smartcom, SGX and GeTS.) Since the launch of
Trade Data Pro
in 2018,
Trade Data Pro
has received overwhelmingly positive remarks from market. This is because
Trade Data Pro
has wide coverage, low cost, and fast response. There are many leading companies from different industries that have subscribed to
Trade Data Pro
.
Trade Data Pro
was awarded with Singapore Quality Class in 2020 and Stevie Award Gold in 2021.
Businesses need information to reveal trends, identify market opportunities, track competitors buyers and suppliers, and better understand supply chain potential. Finding these critical data has traditionally been challenging. But this information do exist, but as part of government import and export filing requirement. The detailed shipment information which are within these filings constructions the core of the global trade.
Trade Data Pro
has gathered and packaged these information as business intelligence. Our solution helps companies understand the flow of goods across borders and features the world's largest searchable trade database. We do the heavy lifting for you by reviewing, standardizing, and cleaning data, then delivering in an intuitive format.