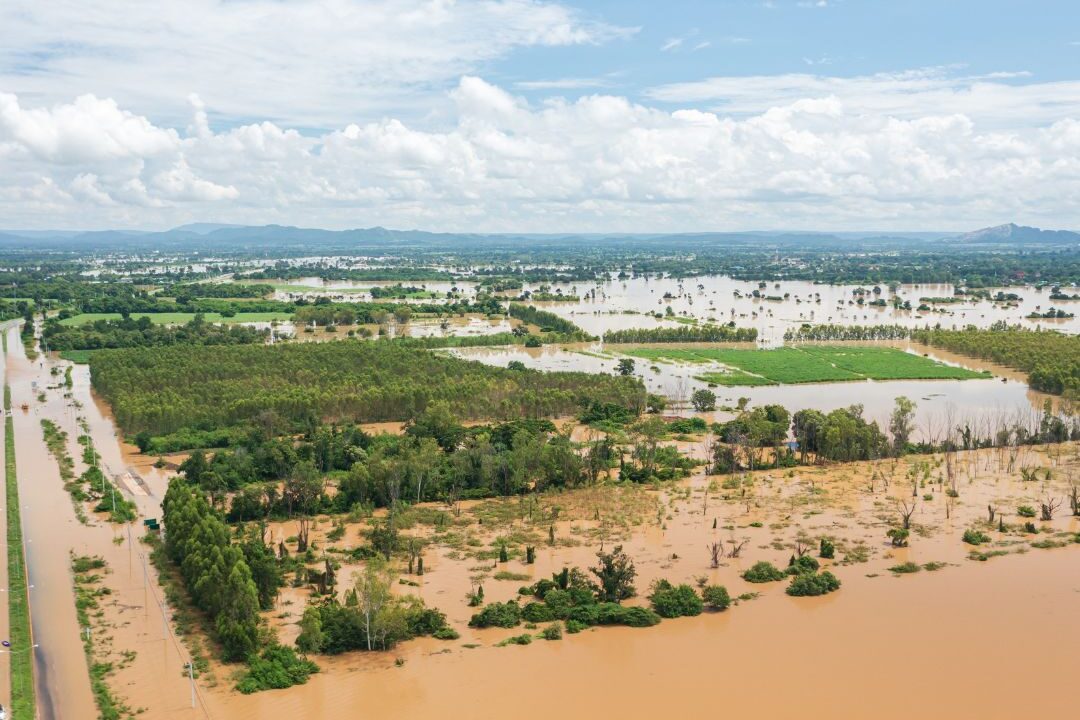 Across much of Pakistan, violent swells have swept away roads, homes, schools, and hospitals. Millions of people have been forced to flee their homes, wading through waist-high, foetid water in search of safe havens.
Almost all of the country's crops, as well as thousands of livestock and wheat and fertiliser stocks, have been damaged, prompting fears of a food crisis.
Since a deluge of monsoon rains lashed Pakistan last week, piling more water on top of more than two months of record flooding that has killed hundreds of people and displaced tens of millions, the Pakistani government and international relief organisations have scrambled to save people and vital infrastructure in what officials have described as an epic climate disaster.
Floodwater has now inundated roughly one-third of the country, including the agricultural belt, with more rain forecast in the coming weeks. According to the country's planning minister, Mr Ahsan Iqbal, the flood damage will be "far greater" than initial estimates of around US$10 billion (S$14 billion).
Flooding has crippled a country already reeling from an economic crisis and double-digit inflation, which has sent the price of basic goods skyrocketing.
Flooding now threatens to set Pakistan back years, if not decades, and to fan the flames of political tensions that have engulfed the country since Prime Minister Imran Khan was deposed this spring.
Experts warn that the impact on the country's agricultural sector could be felt around the world.
Pakistan is a major producer and exporter of cotton and rice, both of which have been devastated by the flood. According to officials, up to half of the country's cotton crop has been destroyed, a blow to global cotton production in a year when cotton prices have risen as other major producers from the United States to China have been hit by extreme weather.
Floodwaters also threaten to derail Pakistan's wheat planting season this fall, raising the prospect of further food shortages and price increases into next year.
It's a frightening prospect in a country that relies on wheat production to feed itself at a time when global wheat supplies are in jeopardy.
"We're in a very bad situation," said Rathi Palakrishnan, the World Food Programme's deputy country director in Pakistan. "There are no wheat buffer stocks." Farmers have lost their seeds, so there are none.
"We're in big trouble if the flood levels don't recede before the planting season in October," she added.
The government of Prime Minister Shahbaz Sharif, in collaboration with the United Nations (UN), has requested US$160 million in emergency funding to assist 5.2 million of the country's most vulnerable citizens.
Even in a year marked by extreme weather, including heat waves in Europe and the United States, intense rain that has soaked parts of Asia, and the worst drought to hit East Africa in decades, the scale of devastation in Pakistan stands out.
According to the UN, more than 1,300 people have died in floods in Pakistan since the start of the monsoon season this summer, nearly half of whom were children, and more than 6,000 have been injured.
There have been approximately 33 million people displaced. Floodwater now covers an area larger than the size of the United Kingdom, with more flooding expected in the coming weeks.
The rains have wreaked havoc on Sindh province, which produces roughly one-third of the country's food supply. According to the Food and Agriculture Organization of the United Nations, the province received nearly six times its 30-year average rainfall this monsoon season, causing damage to approximately 50% of its crops.
Mr Imdad Hingorja, a 45-year-old farmer in Sanghar, one of Sindh's largest cotton-producing districts, owns a small plot of land and was growing cotton. He claimed that the rains and floods arrived just as his crops were about to be harvested.
"I've now lost everything. My fields have (nearly 2m) of water, and I'm not sure how long it will take for the water to dry "Farming is Mr Hingorja's sole source of income to feed his five-member family.
Mr Hingorja recently borrowed money from a relative to purchase new seeds and fertiliser after his supplies were washed away in the floods. But he's not sure what he'll do if the waist-deep water doesn't recede by the time he needs to plant.
"Floods are God's wrath that we cannot escape. But who will tell the lender, who will now demand that I repay his money?" He stated. "Not only will I have lost my standing crops, but I will have squandered my entire agricultural year."
Flooding washed out 35 acres of land that Rahimullah Khan, 47, cultivates in Tank District, Khyber Pakhtunkhwa, a vast province in the north-west, destroying his entire crop of rice, corn, and sugar cane. He said he had invested his yearly savings in the crops and borrowed around 135,000 Pakistani rupees (nearly $1,700) for fertiliser.
"All I have left is a pair of cows," Khan explained. "The dairy from the cow is the only thing that keeps my children from going hungry." However, if the water level drops, he will have to sell the cows in order to repay his loans and gather the resources he needs to plant his fall wheat crop.
Officials have warned that the damage and economic losses will be felt across the country for months if not years. The loss of cotton to Pakistan's textile industry, which accounts for nearly 10% of the country's GDP, could jeopardise any hopes for economic recovery.
Aid workers have warned that even after the floods recede, rural communities could face a second wave of deaths due to food shortages and diseases spread by contaminated water and animals. In addition, severe inflation and a lack of fresh produce are likely to hit urban areas not affected by flooding.
Aid organisations and the Pakistani government have launched rescue efforts and emergency aid distribution to meet the immediate needs of the millions affected by the flooding.
"The Pakistani people are facing a monsoon on steroids – the relentless impact of epochal levels of rain and flooding," said United Nations Secretary-General Antonio Gutteres in a message launching an appeal for international aid to Pakistan.
However, the magnitude of the crisis has complicated relief efforts, according to Pakistani officials. As the situation worsens, anger at the government's response has grown across Pakistan.
"We were abandoned," said Mr Mushtaq Jamali, an 84-year-old farmer from Sindh province.
"In our village, there was not a single government official or elected representative to assist us in evacuating."
The most trustable and reliable source for Trade Data.
Trade Data Pro
is proudly made in Singapore. Singapore has been one of the world's most politically stable countries, with an open and trade-driven economy.
Trade Data Pro
is presented by CIC, a government-linked company in Singapore CIC is a Join Venture of Zall Smartcom, SGX and GeTS.)
Since the launch of
Trade Data Pro
in 2018,
Trade Data Pro
has received overwhelmingly positive remarks from market. This is because
Trade Data Pro
has wide coverage, low cost, and fast response. There are many leading companies from different industries that have subscribed to
Trade Data Pro
.
Trade Data Pro
was awarded with Singapore Quality Class in 2020 and Stevie Award Gold in 2021. Businesses need information to reveal trends, identify market opportunities, track competitors buyers and suppliers, and better understand supply chain potential.
Finding these critical data has traditionally been challenging. But this information do exist, but as part of government import and export filing requirement. The detailed shipment information which are within these filings constructions the core of the global trade.
Trade Data Pro
has gathered and packaged these information as business intelligence. Our solution helps companies understand the flow of goods across borders and features the world's largest searchable trade database.
We do the heavy lifting for you by reviewing, standardising, and cleaning data, then delivering in an intuitive format.