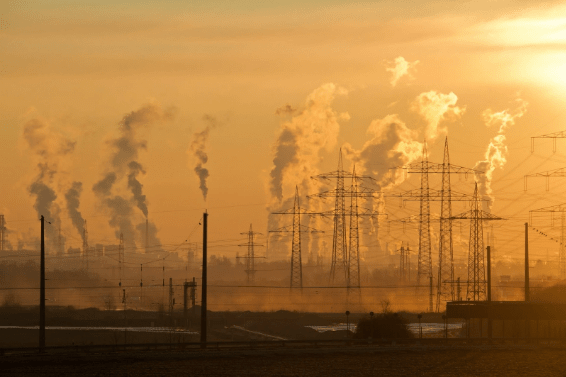 Vietnam is endowed with an abundant wealth of natural resources, including coal, natural gas, and oil. In 2020, Vietnam's exports of mineral resources, such as oil and fuel covered 0.95% of the GDP, worth US$2.86B. While in 2021, Vietnam's electricity, gas, steam, and air conditioning sectors accounted for 4% of the country's total GDP, equivalent to over VND335 trillion.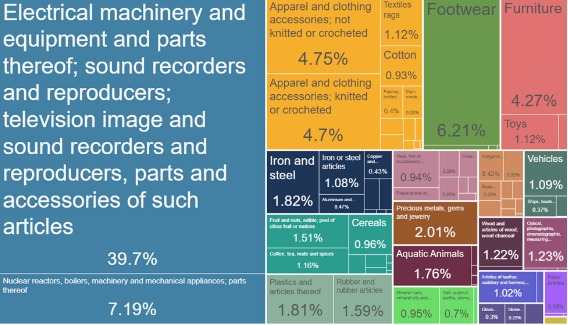 2020 Vietnam Exports data shows the emerging industries which lead to higher energy consumption
Vietnam's energy composition
Coal, oil, hydropower, and natural gas are the primary fuels used for energy generation in Vietnam. The energy industry in Vietnam is dominated by coal owing to its abundance and is the least expensive, ensuring affordability. In 2020, approximately half of the energy generation in Vietnam was derived from coal, followed by 30% from hydropower, 14% from natural gas, and 5% from non-hydroelectric renewables.
Energy industry in Vietnam is growing significantly due to surging demand
In 2022, refined petroleum is one of the top imports of Vietnam, but the country is also a big oil exporter. Manufacturing was the driver of Vietnam's growth last year. Hanoi, Hai Phong, Quang Ninh, Vinh Phuc, Bac Ninh, Hai Duong, and Hung Yen are just a few of the seven cities and provinces that make up the Northern KER. Foreign direct investment (FDI) firms account for almost 80% of Northern KER exports. The area's prominence in industries including oil and gas, machinery, high technology, and the automobile industry, has earned it widespread recognition.
Vietnam is experiencing significant economic growth due to its robust industrialisation process in the country, such as being a manufacturing hub, surging the energy demand in Vietnam rapidly. In 2020, Vietnam was the second-largest Southeast Asian country with a high electricity consumption of 22%. However, coal, the major energy source in Vietnam, is highly polluting; therefore, the government of Vietnam encourages using renewable energy sources with the hope that renewable energy sources can contribute more than 70% of the electricity demand in Vietnam's electricity system by 2050 to achieve net zero CO2. This is in view of the government's forecast for power consumption to grow from 10% to 12% annually until 2030.
In 2023, Vietnam is set to produce and import a total of 284.5 billion kilowatt hours (kWh) of electricity, which is 16 billion kWh more than in 2022 and 29 billion kWh more than in 2021. These statistics prove that the energy demand in Vietnam is increasing, leading to a stronger request for renewable resources in Vietnam. If you are conducting business in the energy industry, it is worthwhile for you to grab this golden opportunity in Vietnam.
How to generate leads in the energy industry in Vietnam
Online business directories
An online business directory is an online listing of businesses that provides information about specific businesses, such as the name, address, contact information, associations, and services and products offered. Adding your business to online business directories would expose your business to more traffic, increase your business's awareness, and even connect potential customers to your business. Users may search for information based on the industry or product; the business directory will help them list out the relevant companies in the specific area or industry.
For instance, VietnamYello is one of the popular online business directories in Vietnam; diverse business categories, such as manufacturing, industry, and business services, can be found on this platform. When users search for the energy industry in Vietnam on VietnamYello, your company will be shown in the search results if your business is listed on the platform. When users click on your company in the search results, they may get more information about it. In addition, the platform allows users to leave reviews and recommend businesses and products that they have used. If your customers are pleased with your products, you will receive positive feedback, which will entice more potential customers to engage with your company, generating more leads.
Trade show
A trade show is an event that brings together members of a particular industry to display, demonstrate, and discuss their latest products and services. Every year, dozens of trade shows are held in Vietnam, bringing all the different aspects of an industry together, including consumers, distributors, suppliers and manufacturers, all in one place. Vietnam's International Renewable Energy Exhibition in 2024 and Oil & Gas Vietnam (OGAV) 2023 are examples of trade shows related to the energy industry in Vietnam and will be held from 2023 onwards.
Trade shows allow you to create brand awareness and physically showcase your products to your target audience. Moreover, you may meet your potential customers in person, allowing you to talk freely about your brand and answer their questions on the spot. From there, you generate leads for the energy industry in Vietnam. That said, leads generated through trade shows can be time-consuming, as you need to talk to each of them to filter out the good leads. If you want to know more about trade shows in Vietnam, you can start by reading about Vietnam Expo, the largest trade fair in the country.
Utilise reliable trade data platforms
Unlike online directories, the trade data platform would show you trade data, such as import-export data help you to identify which companies are actively engaged in that particular industry in the country. This allows you to generate leads in the energy industry in Vietnam effectively. TradeData.Pro can provide you with high-quality data sources. Their data is collected from the customs bureau of each country, well-known shipping companies, and authoritative data providers, ensuring you receive reliable information and develop better strategies for your business. In addition, information such as customs data and shipping data is at your fingertips with TradeData.Pro. Customs data in TradeData.Pro allows you to obtain detailed information about the buyers, including contact details and company trade histories for imports or exports. This enables you to connect with high-potential leads, which are active in the energy industry in Vietnam.
Furthermore, TradeData.Pro adopts cross-border trade patterns on the basis of filters such as importers, exporters, product description and HS Codes. For example, when you key in information, such as 270120, the HS code of coal, a list of companies importing and exporting coal in Vietnam searched results will appear.
Conclusion
Doing business in Vietnam's energy industry might be challenging if you do not have any reliable insights to attract the right potential customers, gaining competitive advantages. Online directories, trade shows and reliable trade data platforms are some effective ways to generate leads in the energy industry in Vietnam. We hope that you may have a better idea of the right way for you to generate leads for your business to survive well in the energy industry in Vietnam. If you're looking for a cost-effective way, TradeData.Pro is the best option – import-export data from TradeData.Pro would help you to filter good leads simply through their previous import and export data that determine their reliability. And you can monitor how your competitors are doing, and utilise the market trends from TradeData.Pro to identify opportunities, thereby gaining a competitive advantage. Contact us and use TradeData.Pro to make the first move and better-informed decisions.
The most trustable and reliable source for Trade Data.
TradeData.Pro is a reliable and trustworthy source of trade data proudly made in Singapore, a country known for its stable political climate and trade-driven economy. Presented by Commodities Intelligence Centre, a government-linked company and a joint venture of Zall Smartcom, SGX, and GeTS, TradeData.Pro has received positive feedback from the market since its launch in 2018 for its extensive coverage, affordability, and fast response. The platform has been awarded the Singapore Quality Class in 2020 and the Stevie Award Gold in 2021.
Traditionally, obtaining critical data to reveal trends, identify market opportunities, track competitors, buyers, and suppliers, and better understand the potential of the supply chain has been a challenge. However, the detailed shipment information that is part of government import and export filing requirements does exist and forms the core of global trade. TradeData.Pro has gathered and packaged this information as business intelligence, which helps companies understand the flow of goods across borders and features the world's largest searchable trade database. TradeData.Pro reviews, standardizes, and cleans data and delivers it in an intuitive format, making it easier for businesses to access.
Businesses interested in staying updated on Vietnam, the hottest industry lately, can access all relevant information on the TradeData.Pro platform. They can find the exact product they're interested in by checking out the trade database demo at https://tradedata.pro/asia-trade-data/vietnam-import-export-data/. To learn more about accessing new markets, visit https://tradedata.pro/trade-database-demo/.
Additionally, businesses can check out this article to learn how to use TradeData.Pro to access Global Trade Markets: https://blog.tradedata.pro/say-hello-to-our-new-release-of-tradedata-pro/. To understand how TradeData.Pro works, watch the video below or visit https://www.youtube.com/watch?v=tITfUvjs6Gc.