Brazil is the largest global coffee producer, producing about one-third of the world's coffee, followed by Vietnam and Colombia. Find more Brazil production insight in this blog "insert [Coffee Production in Brazil World's largest production] once published". Also, discover more Colombian coffee industry intelligence at Cafes de Colombia Expo 2023. Click here "insert [Explore Profitable Opportunities at the Cafes de Colombia Expo 2023] once published" for more details.
Therefore, the coffee sector is essential to Brazil's economy, providing employment to millions and generating significant revenue.
Brazilian coffee's mild, low-acidic flavour makes it a popular choice globally, with Arabica beans being more commonly grown and exported than Robusta.
The main coffee-producing states in Brazil are Minas Gerais, Sao Paulo, and Parana.
Brazil coffee crop is expected to have a growth of 8% in 2023
2023 is an "off-year" for the biennial Brazilian Arabica where high and low production alternate every other year. However, Conab, the government agency for food and statistics, forecast that the cycle will be interrupted. Low precipitation, protracted droughts, and above-average temperatures injured the 2022 harvest for a significant portion of its growth but provided support to this year's harvest. In addition, producers have greater access to technology, which helps increase coffee output in 2023.
Brazil's 2023 coffee crop is anticipated to increase by 8% compared to 2022, with an estimated production of 54.94 million 60kg bags, more significant than the 50.9 million bags produced in 2022.
Arabica coffee production is expected to increase by 14.4% year-over-year due to a rebound in the leading producing state of Minas Gerais. Even though it is less than the record crop of 50 million sacks in 2020, a larger supply must boost exports and encourage the replenishment of stocks in 2023.
In contrast, Robusta coffee production is anticipated to reach 17.5 million bags, a 3.8% decrease from 2022.
The total area devoted to coffee cultivation is predicted to increase by 0.8% to nearly 2.3 million hectares. While, the productivity of the coffee crop in 2023 is anticipated to increase by 4.4% to 28.9 bags per hectare.
There are differences between the two varieties of coffee, including production regions and harvesting schedules. Besides, if you are interested in other Brazilian agricultural information, click here to read more.
Even though Brazil's coffee production will increase in 2023, it is essential to consider whether the recent economic downturn will impact the export market for Brazilian coffee. And how will this affect prices?
Coffee prices are expected to continue falling in 2023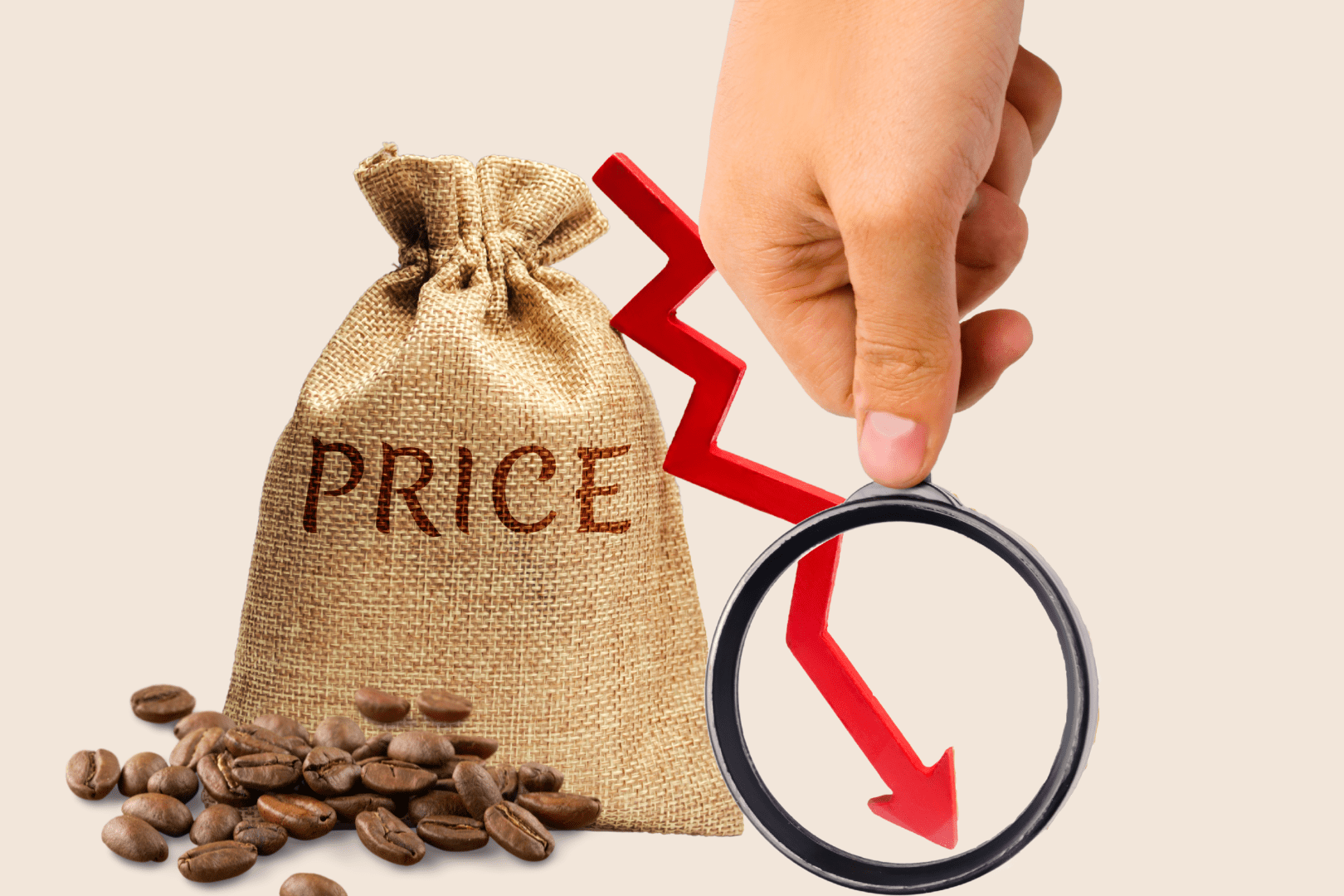 Coffee prices predicted to maintain a lower level in 2023
Due to poor weather conditions in Brazil, disruptions in the global supply chain, increased demand, and the conflict in Ukraine, coffee prices in 2022 soared to over $2 per pound.
However, in October and November 2022, optimistic production figures and deteriorating economic conditions led to a price decline to $1.55, followed by a decline to less than $1.44 in January 2023.
After a sharp decline in October 2022, Goldman Sachs, Rabobank, and Fitch forecast that the C price for Arabica coffee will continue to decrease in 2023.
Demand-side factors such as a looming recession and consumer belt-tightening may significantly impact coffee prices in 2023. Learn more about global trade forecasts 2023 in this blog.
While coffee roasters may consider cutting prices in response, they also face rising production costs due to high energy costs and labour shortages.
Moreover, global coffee production is expected to rise by 4.1% in 2022/23, leading to downward price pressure.
The good news is that, according to Judith, the president of J Ganes Consulting, a feeble dollar might mitigate the lows for producing nations that are non-US currency-pegged, which would benefit from a firmer exchange rate.
Using a reliable trade data platform enables you to gain insights into the Brazilian coffee industry
Discover a Brazilian supplier by searching Brazil coffee exporter data at TradeData.Pro
A brief sample of searching Brazilian coffee export data at TradeData.Pro
Looking for affordable, high-quality Arabica or Robusta coffee from Brazil? TradeData.Pro may help you. We provide reliable global trade data, including 200+ countries' custom data. Subscribe to TradeData.Pro now to access unlimited Brazil coffee export data and information that will help you find coffee suppliers for your business. You can get Exporter Name, Buyer Name, Arrival Country, Sender Country, HS Code, Product Description, Quantity, Weight, Value, and more on our websites. Our organised and reliable data allows you to easily filter through various supplier choices.
Explore more tips about expanding global business in this blog. More global business news and strategies at TradeData.Pro. Contact us to book a demo now!
The most trustable and reliable source for Trade Data.
TradeData.Pro is a reliable and trustworthy source of trade data proudly made in Singapore, a country known for its stable political climate and trade-driven economy. Presented by Commodities Intelligence Centre, a government-linked company and a joint venture of Zall Smartcom, SGX, and GeTS, TradeData.Pro has received positive feedback from the market since its launch in 2018 for its extensive coverage, affordability, and fast response. The platform has been awarded the Singapore Quality Class in 2020 and the Stevie Award Gold in 2021.
Traditionally, obtaining critical data to reveal trends, identify market opportunities, track competitors, buyers, and suppliers, and better understand the potential of the supply chain has been a challenge. However, the detailed shipment information that is part of government import and export filing requirements does exist and forms the core of global trade. TradeData.Pro has gathered and packaged this information as business intelligence, which helps companies understand the flow of goods across borders and features the world's largest searchable trade database. TradeData.Pro reviews, standardizes, and cleans data and delivers it in an intuitive format, making it easier for businesses to access.
Businesses interested in staying updated on Vietnam, the hottest industry lately, can access all relevant information on the TradeData.Pro platform. They can find the exact product they're interested in by checking out the trade database demo at https://tradedata.pro/asia-trade-data/vietnam-import-export-data/. To learn more about accessing new markets, visit https://tradedata.pro/trade-database-demo/.
Additionally, businesses can check out this article to learn how to use TradeData.Pro to access Global Trade Markets: https://blog.tradedata.pro/v3-new-upgrade-of-world-leading-global-trade-data-platform/. To understand how TradeData.Pro works, watch the video below or visit https://www.youtube.com/watch?v=tITfUvjs6Gc