One of the hottest buzzwords in technology right now is artificial intelligence (AI). It is known as the ability of robots to replicate or enhance human intelligence, such as reasoning and experience-based learning. Several inventions and developments that were previously only found in science fiction have begun to come to life during the past several years. Simply put, several large-scale, intelligent, iterative processing algorithms are combined to create an AI system, and with this, AI can now learn from patterns and characteristics in the analysed data. For example, an artificial intelligence system will test and evaluate its performance after each round of data processing, using the outcomes to gain more knowledge.
As technology develops quickly, artificial intelligence (AI) continues to amaze and intrigue people by being used in a wide range of services, especially in trade data analysis. It enhances trade data analytics capabilities by increasing data automation, accessibility, and analytical potential. With this, AI has the potential to significantly impact global trade. Specific applications in areas like data analytics and translation services are already lowering trade barriers.
Here are a few examples of how AI impacts trade data analytics:
To analyse data and reporting speed
AI has the capacity to significantly shorten trade data reporting times and accelerate trade data analysis. Both the accuracy of the trade data analysis and the reporting speed is improved. AI may be used to analyse a huge amount of trade data and produce reports that are conclusive. The amount of time required and the likelihood of errors in the report would both be quite high if the same task were entrusted to a human.
24/7 service
AI, in contrast to humans, does not require sleep and is able to work around the clock. Humans are limited in how much time they can work and in how consistently they can execute. However, artificial intelligence (AI) is simply a machine that never gets weary or bored. It may operate continuously, providing the same performance to analyse the trade data and ensure its reliability all day long. This increases business productivity and makes the sector operate more smoothly and productively. If an AI completes the task, the likelihood of error is likewise reduced.
Automated process
Many of the complex tasks have been mechanised with the development of AI. No human assistance is required to complete the processes. The AI automatically provides many of the microservices. A very time-consuming and complicated operation for trade data analysis is now simply accomplished with the advancement of AI. Many complicated processes have been automated, cutting costs for business and employees' work efforts.
Data Analytics
AI is widely applicable to trade data analytics nowadays. AI is excellent at processing algorithms, which it employs to extract useful information from enormous amounts of trade data. The company frequently gathers vast amounts of trade data so that they can be analysed to gain more insights into international trade. These data include a vast quantity of information, making it extremely hard to analyse them adequately. With the assistance of AI, this data can be processed fast and a thorough report can be produced. This is incredibly beneficial for the company and boosts the effectiveness of the commercial sector as a whole.
How can AI improve trade data analysis accuracy and efficiency?
The wonder of modern science, artificial intelligence, has enabled many previously unimaginable possibilities. Many tasks can now be completed quicker and more efficiently thanks to AI. With AI, many things in the industry now operate more effectively and productively!
Predictive Analytics
The practice of using data to predict future outcomes is known as predictive analytics. To uncover patterns that could possibly anticipate future behaviour, the procedure makes use of data analysis, machine learning, artificial intelligence, and statistical models. Organisations can estimate trends and behaviours with great accuracy in seconds, days, or years in the future using historical and current data as well as find patterns in this data to identify risks and opportunities in international trade. For example, businesses can use predictive analytics to manage product inventory and set pricing strategies as it helps companies to meet customer demand without overstocking warehouses. It also enables companies to assess the cost and return on their products over time. If one part of a given product becomes more expensive to import, companies can project the long-term impact on revenue if they do or do not pass on additional costs to their customer base.
Machine Learning
Machine learning is a subset of AI that uses algorithms to examine enormous volumes of trade data. The entire trade data analysis procedure is automated by machine learning to deliver richer, quicker, and more thorough insights. These algorithms run without regard for human prejudice or time restraints, processing every possible trade data combination in order to comprehend the data as a whole. Without machine learning, businesses are left with a sea of unrelated data. However, with machine learning, companies now have a hierarchical structure of the trade data that is most pertinent, important, and specialised to each role and function. Additionally, machine learning analytics comprehends the limits of crucial information. In other words, machine learning can test all of the hypotheses in a considerably shorter amount of time while still testing them all. Consider seconds instead of weeks then it will present an in-depth, accurate, and pertinent data story to you.
Natural Language Processing
A branch of artificial intelligence called "Natural Language Processing" (NLP) examines how computers and languages interact. Finding new ways for people and computers to communicate as well as understanding human speech as it is spoken are the aims of NLP. In recent years, the discipline of data analytics has experienced fast developments in part because of the development of tools and technologies like machine learning and NLP. However, it is not simple to comprehend human language. People express themselves in a variety of ways, both verbally and in writing. There are nuances to each of the hundreds of languages and dialects currently in use, including grammar and syntax rules, regional accents, and slang expressions. With NLP's ability to clear up linguistic ambiguities and provide the data with a useful qualitative structure, textual analytics, and speech recognition are made easier.
Why you shouldn't miss out on AI trade data analysis
One of the key tasks in every data-driven organisation nowadays is trade data analysis. It enables businesses to transform unprocessed data into insightful knowledge that can improve decision-making. The best thing about data analytics is that there are lots of tools available for both experts and people with little to no experience in the industry. AI-powered trade data analysis tools assist you in tracking, visualising, and analysing data to gain the insights you need to accomplish your business objectives. Most importantly, they help exporters and importers around the world to make business sense of infinite loads of both structured and unstructured information on foreign trade. Continue reading to understand why you need AI tools for trade data analysis!
AI-powered trade data analysis tools help you grow your market share, increase your

global exposure

and reduce costs in the supply chain

They assist businesses in getting key insights into global trade and evaluating present and prospective trading partners.

With the help of trade data analysis tools, you can understand almost everything related to exports and imports ranging from the simplest of market fundamentals to the complex supply and demand shifts, which allow you to make an effective decision.

They also assist businesses in exploring, pinpointing and understanding the buyers and suppliers across product categories. Most importantly, you can gain an in-depth understanding of a buyer or a supplier and secure an opportunity in global trade.
Take a look at one of the best AI-powered tools for trade data analysis:
TradeData.Pro is an AI-powered analytics and data visualisation platform that enables users to interact with their data. It provides you with trade records, including the company names, addresses, and previous import and export records, allowing you to connect with high-potential leads and suppliers. A reliable source of import-export data is crucial for you to get the correct market information. This information enables you to be sustainable in a business and gain a competitive advantage by making wise decisions.
With TradeData.Pro, you can easily access particular materials that you wish to explore more. For example, steel. This is the overview page where you can see importers and exporters.
Using steel as the overview, you can easily get the HS code of steel and see what is the analysis for it.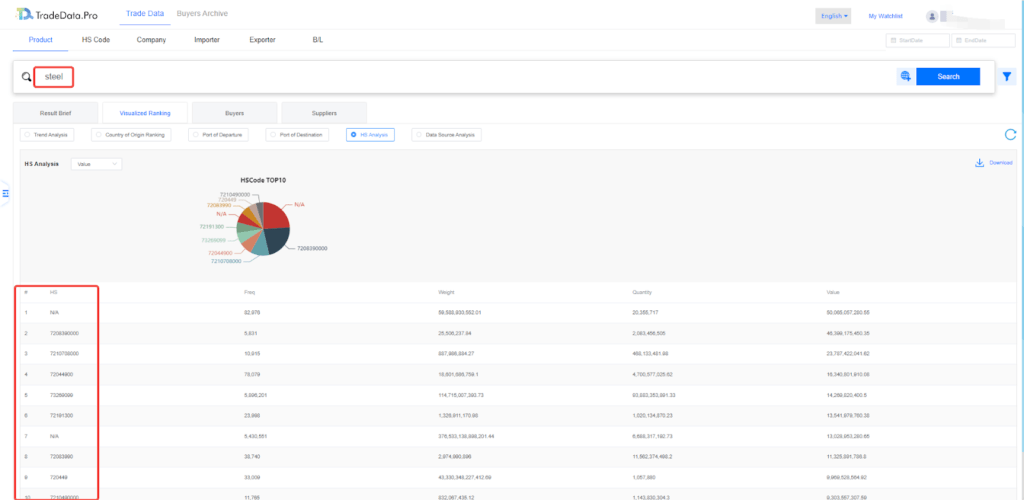 Based on the HS code that you got, you can explore the top "Steel" products with just a few clicks. Moreover, you can also have a look at the top buyers of steel.
Last but not least, there's a trend analysis provided for you to keep updated on the latest trend and you can utilise this data to make strategic planning for imports and exports.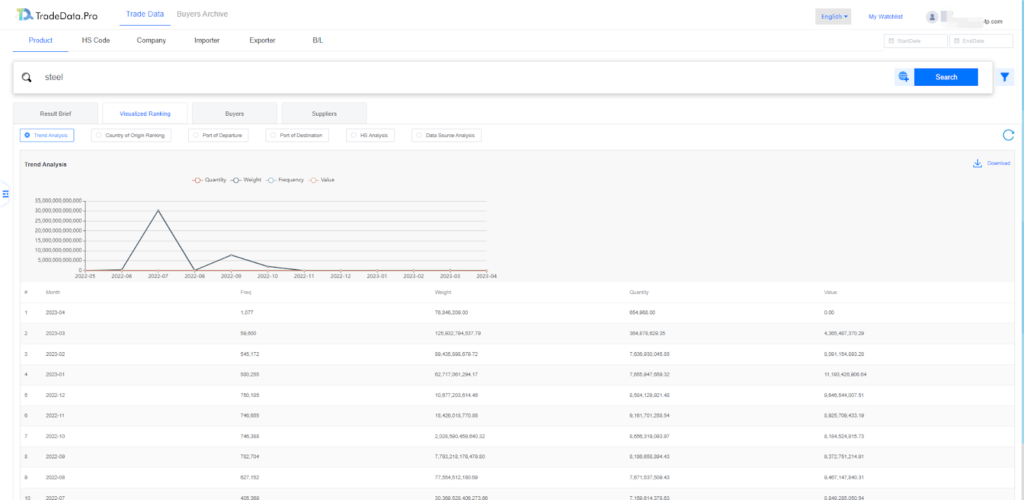 Conclusion
International trade patterns and global value chains are already being influenced by AI. Trade regulations created today in the World Trade Organization (WTO) or through free trade agreements will be crucial in determining how AI will be created and implemented worldwide in the future.
In trade data analysis, fraud detection and prevention have been improved with the help of AI and machine learning. Machine learning algorithms, for instance, can employ behavioural biometrics, such as fingerprint or facial recognition, to detect suspicious activity. They can also analyse transaction data to find patterns of fraudulent conduct.
Trade data analytics is a significant use case for fraud detection. In order to build a fuller picture of a client's behaviour, businesses might employ data analytics to aggregate information from many sources, such as transaction data, customer data, and external data sources. Using many data sources may not always reveal suspicious activity, which can assist companies in identifying it.
If you are considering starting or implementing AI-powered trade data analysis tools, it's highly recommended to leverage on import-export data of the industry and you can get them easily through TradeData.Pro, an AI-powered market intelligence platform. TradeData.Pro provides you with customs data such as the HS Code, trend analysis, importers, and exporters in the manufacturing industry. From there, you may gain insight into the materials, trends, potential suppliers, and buyers and make informed decisions for your business!
The most trustable and reliable source for Trade Data.
TradeData.Pro is a reliable and trustworthy source of trade data proudly made in Singapore, a country known for its stable political climate and trade-driven economy. Presented by Commodities Intelligence Centre, a government-linked company and a joint venture of Zall Smartcom, SGX, and GeTS, TradeData.Pro has received positive feedback from the market since its launch in 2018 for its extensive coverage, affordability, and fast response. The platform has been awarded the Singapore Quality Class in 2020 and the Stevie Award Gold in 2021.
Traditionally, obtaining critical data to reveal trends, identify market opportunities, track competitors, buyers, and suppliers, and better understand the potential of the supply chain has been a challenge. However, the detailed shipment information that is part of government import and export filing requirements does exist and forms the core of global trade. TradeData.Pro has gathered and packaged this information as business intelligence, which helps companies understand the flow of goods across borders and features the world's largest searchable trade database. TradeData.Pro reviews, standardizes, and cleans data and delivers it in an intuitive format, making it easier for businesses to access.
Businesses interested in staying updated on Vietnam, the hottest industry lately, can access all relevant information on the TradeData.Pro platform. They can find the exact product they're interested in by checking out the trade database demo at https://tradedata.pro/asia-trade-data/vietnam-import-export-data/. To learn more about accessing new markets, visit https://tradedata.pro/trade-database-demo/.
Additionally, businesses can check out this article to learn how to use TradeData.Pro to access Global Trade Markets: https://blog.tradedata.pro/v3-new-upgrade-of-world-leading-global-trade-data-platform/. To understand how TradeData.Pro works, watch the video below or visit https://www.youtube.com/watch?v=tITfUvjs6Gc